https://www.parcelandpostaltechnologyin ... he-uk.html
" onclick="window.open(this.href);return false;
and
https://tamebay.com/2020/07/royal-mail- ... house.html
" onclick="window.open(this.href);return false;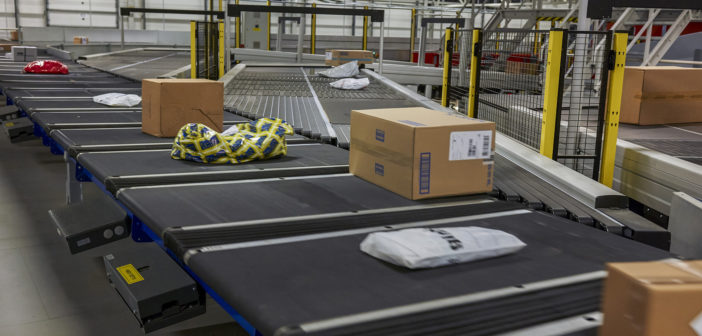 The UK's Royal Mail is due to open a parcel superhub in Warrington to handle ever-increasing parcel traffic. The hub will be fully automated, and the company has opted to deploy a system developed by Beumer Group.
Scheduled to be fully operational by early 2022, the Cheshire hub will be able to handle 800,000+ parcels per day, and to achieve the desired levels of parcel sortation Royal Mail specified widespread use of automation.
"We have seen a major rise in parcel demand over the past few years. Speeding up the passage of parcels within our system through automated sorting technology is key to boosting Royal Mail's parcel processing capacity," said Simon Barker, Royal Mail's national operations director.
According to Beumer, smoothing of the parcel handling process is made possible by a comprehensive interface between its systems and Royal Mail's existing business logic. The result is, it says, a dynamic operation that allows instant updates to many parts of the system, such as the automatic allocation of chutes, thereby optimizing the overall use of floor space.
Outlining the automation process, Beumer says that the majority of the parcels will enter the hub in roll cages. Automated tippers will then tip inbound parcels from these onto a conveyor to enable singulation and sortation to take place. Roll cages prepared for dispatch will, in turn, be taken to outbound vehicles for loading.
The Warrington hub will support the development of the Northern Powerhouse by ensuring the region's businesses have access to a high-quality delivery service to meet consumer demand. It will also add to Royal Mail's considerable contribution to the regions. Royal Mail employs 20,467 jobs in the North West region.
Work on the second hub, which will be situated at the Daventry International Rail Freight Interchange (DIRFT) in the East Midlands, will commence in August 2020. DIRFT is classed as a nationally-significant infrastructure project and is one of the most successful intermodal logistics parks in the UK. From its location in the logistics 'golden triangle', at the heart of the UK's motorway and rail network, the Hub will have excellent road links to the M1 and M6 motorways, access to the West Coast Main Line, as well as the warehousing and fulfilment centres of online retailers.