https://www.bbc.co.uk/news/uk-northern- ... t-54695077
" onclick="window.open(this.href);return false;
Half of the staff at a Royal Mail sorting office in Londonderry are off work due to coronavirus, a union spokesperson has said.
No letters will be delivered in Derry in the next two to three days as a result, said Charlie Kelly from the Communication Workers' Union (CWU).
Of the 120-strong workforce, 24 have tested positive for Covid-19 and 36 workers are self-isolating.
Royal Mail said it puts the
"health of our people and customers first"
.
It added that it was
"working to resolve any additional concerns with our colleagues and our union"
.
Previously, staff were refusing to enter the office due to concerns over the spread of Covid-19 at the site.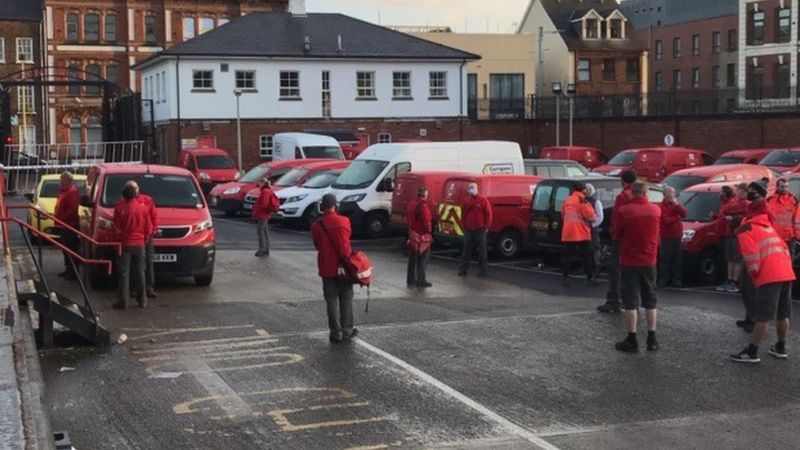 Staff members refused to enter the sorting office last Tuesday morning until a deep clean was carried out
Postal services services resumed last week after Royal Mail carried out a deep clean of the city's sorting office.
Mr Kelly said the workforce are facing "huge pressures" in the run up to Christmas with mail services affected.
'Backlog of mail'
"We have 50% of staff off and there will be no letters delivered for the next two to three days," Mr Kelly told BBC Radio Foyle.
"Amongst that mail there could be hospital appointments or bills that need paid.
"We are now just currently concentrating on packets," he added.
Speaking to BBC Radio Foyle's Mark Patterson Show, Mr Kelly said he believes "major changes need to be made" at the site.
"Until the postman goes out onto the streets to commence his deliveries there is a three-hour-period where everyone is in that office.
"On a normal day there are over 100 staff working in that office and we are basically side-by-side.
"All the PPE (personal protective equipment) has been supplied, there are masks there and there's hand sanitiser but with an operation the size of ours - it's very difficult."
In response, a Royal Mail spokesperson said:
"We have put in place a range of preventive measures to protect both our customers and our colleagues.

"All staff have been briefed about the social distancing measures jointly agreed by local management and the CWU.

"This has been supplemented with visible reminders such as posters and one-way floor markings."